Facebook

Benefits of Tandem Club Membership
About Our Club
16/01/2020
The Tandem National Rally will be held in Corsham, Wiltshire from Saturday 23th May - Saturday 30th May 2020. The rally website is now available for information and bookings are open ! Tandem 2020 National Rally in Corsham
29/10/2019
Bookings can be made for the 2020 Easter Rally, which is being held at Greenhill Leisure Park, Bletchingdon, just north of Oxford.
Please book early to be sure of securing a pitch on the campsite here.
16/10/2019
We are always looking for ways to raise awareness among potential new members who don't know there is a Tandem Club.
In the latest copy of the TCJ are 5 Club stickers in a white envelope. Please put these on your tandem (on all your tandems if you have more than one). People admiring your tandem out on the road are sure to spot them and ask about the Club. This is your chance to tell them about what we do and get them interested.
If you need more stickers please get in touch.
Thank you for helping to raise awareness of the Tandem Club amongst potential new members.
Peter Weeks Publicity Officer
17/11/2018
We have been working on making the website more mobile phone friendly. Its not complete yet, but hopefully most pages should display better on these devices.
28/02/2020
Just a quick enquiry to find out who is occupying the third room at Maison de Fortitude B&B during the rally, with a view to co-ordinating which evenings to arrange to eat in to make life easier for our hosts. Am already in touch with TC Journal editor who is staying there.
22/02/2020
This is how our standard (non-coupling) tandem goes in a bike box, with all the other parts not in the photo slotted in around it, as with everyone else always a tense moment unwrapping it when we arrive at our destination.
17/02/2020
We have used just park and parked at St Marks Church in Derby Road which is very close to port and reasonably priced.
08/02/2020
Does anyone have any carbon tandem forks they can spare, (1 1/8" ahead stem, cantilever brakes).
Thanks, Brian
02/01/2020
After the ITR 2020 in France Carl & Julie Mattson are riding to Bordeaux, staying two nights then going by train to Nantes.    We will then ride the Atlantic Route 1 to the Spanish Boarder for 18 days.  This is a self supported ride, 40-50km per day, no long range reservations, eat when we are hungary, sleep when we are tired, enjoy the towns, the sights and the sea side.  Tandems and single bikes are welcome to join us for as short or long as you wish.   Carlmatt@aol.com
21/01/2020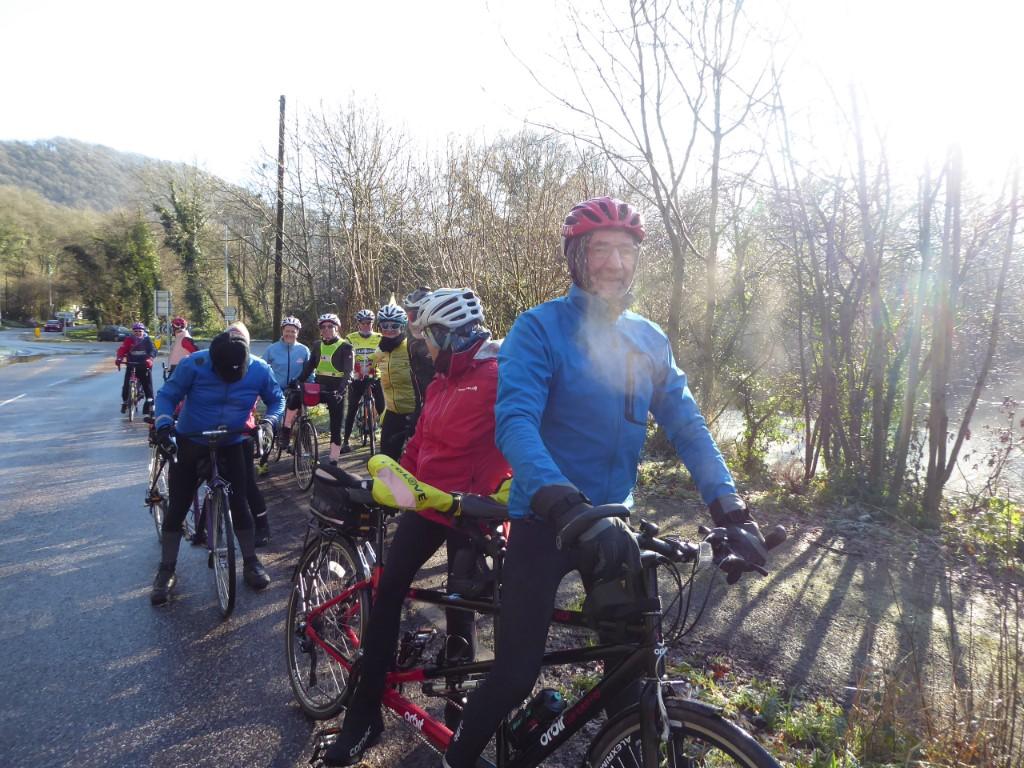 Richard and Michelle organised the January ride for the Taunton Group starting from Wiveliscombe. Organising a winter ride can have its challenges - namely weather conditions and lack of open cafes. Two days before the ride our concerns were the very wet and muddy lanes, however, on the day it was the cold and ice. Five tandems plus two solos set off towards Bampton on a road that was supposed to have been gritted. One icy patch resulted in a few walking but everyone stayed upright. The Toucan Café, in Bampton, kindly opened early for a coffee stop. Bikes were safely stored and we thawed out before continuing. Although a few were up for following the planned route along the lanes the general view was to stick to the bigger roads so we looped round to The Black Cat and Exeter Inn before heading back to Wiveliscombe where we jumped in the cars and drove to The Globe in Appley for lunch. Nick and Rachel joined us in Bampton for the short loop and then drove on to lunch on the original route and confirmed that we had made the correct decision! Driving on from the pub was also not very pleasant.
06/02/2020
LA Group February Ride - Weather Update. Heavy showers and gales are forecast for Cumbria on Sunday with gusts in excess of 60 mph. Please check the What's On for updates or contact the leader before considering travelling. There is a high probability that we may have to rearrange this ride.
01/01/2020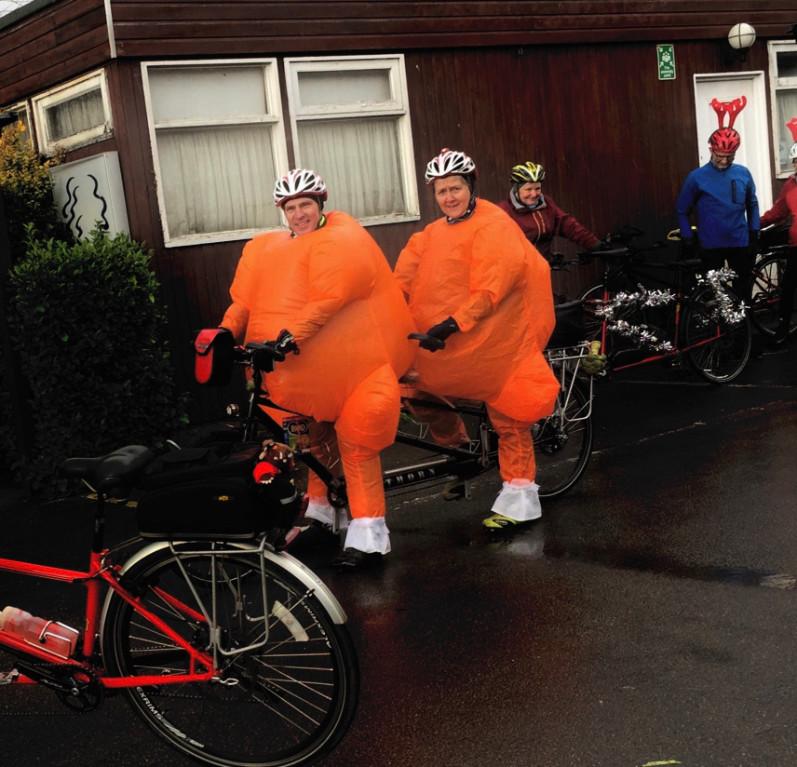 The Taunton group met at the Walnut Tree at North Petherton for their Christmas Meal and ride – a record number of 40 people attended the meal.
The fancy dress/decorated tandem competition is always amazing. Rob and Sally stole the show dressed as oven ready turkeys. They cycled the 18 mile route and must've roasted! Other costumes included Christmas trees with flashing lights, reindeers, and of course Santa himself.
Coffee and biscuits is a great way to start then Ian led the ride with daughter-in-law Sarah as his stoker to provide much needed pedal power - Lisa had just had a replacement shoulder operation and will be back in action later in the year. Heavy rain delayed the start but fortunately the sun came out as 14 tandems and 2 solos cycled to North Newton. We then continued across the levels and up the 'steep' hill into North Curry where we re-grouped. From there we made our way to Burrowbridge and then alongside a very high River Parrett up to Huntworth and back to North Petherton. A lovely ride with lots of friendly chatting and numerous comments from those watching us pass by. Thanks must go to Richard and Michelle for keeping the group together.
The Christmas Meal was as good as always and it's lovely to see so many people attend. The trophy for the most rides done in the year was awarded to Nick and Rachel who rode 9 out of the 11 rides in 2019, including the successful 100 mile Tour de Dartmoor weekend organised by Andy and Anita with help from Karl and Lisa. The Christmas quiz was won by Tim and Mary and Ian and Lisa were presented with gifts in appreciation of their work as Regional Officers.