Facebook

Benefits of Tandem Club Membership
Join Our Club
16/09/2020
Hi can anybody recommend insurence for our new tandem
27/07/2020
The TandemClub server has had a major update to its Linux OS and systems. Please contact us if you see or have any problems with the system. webgroup@tandem-club.org.uk.
04/07/2020
The 48th Annual General Meeting of the Tandem Club was scheduled to take place on Saturday 11 April 2020 at the Easter rally. The Agenda was published in the Tandem Club Journal (vol 288). We said in the TCJ (vol 289) that the 2020 AGM was postponed indefinitely, but of course we don't know if and when we will be able to hold an AGM in 2020. It may be that we cannot meet together until 2021. In these exceptional circumstances the business usually transacted at the AGM has had to be done elsewhere:
Club Accounts – the accounts for the year ended 31 October 2019 were published in the April/May Tandem Club Journal (vol 289). The Treasurer has received no comments or queries from members on the accounts.
Membership fees - As stated in the April/May Tandem Club Journal (vol 289) the annual subscription has been raised from £10 per year to £15 per year.
Election of Officers – Club Officers are elected at the AGM. Committee members and ex-offico officers have been assumed to continue in role unless they have indicated otherwise. Barry Wilson has served as Chairman since 2015 and has been on the committee since 2011. He had indicated a wish to stand down. Further information about this is given below. Janet Wilson has been on the committee since 2011 and has stood down as an Ordinary Member. If anyone is interested in joining the committee as an ordinary member please contact the Secretary. Our thanks go to Barry and Janet for serving the Club diligently over this period.
18/09/2020
This type of rear dropout is similar to the ones used on the roadster bicycles of my distant use. They were paired with a screw fitting which allowed adjustment to take up chain wear. I would expect to see the ends of the dropouts to be slightly thinner than the main part of the dropout This type of
more ...
18/09/2020
After being quoted £200 for cover by a specialist provider I contacted my home insurer, Halifax, who added my new tandem as a specified item (up to £10,000 for any bike I think) for under £20 for the year.
18/09/2020
Disc brakes - my understanding is that disc brakes should be applied as and when needed rather than being used continually. To slow the bike on long descents a rim brake can be used but hub mounted retarders like the Aral used on older tandems prevent rims overheating in these conditions. Being brou
more ...
12/09/2020
I use a Pendle works well although not easy lifting the tandem up, once on though very secure.
I find having the car leaning away from me helps and the use of a step an asset.
13/09/2020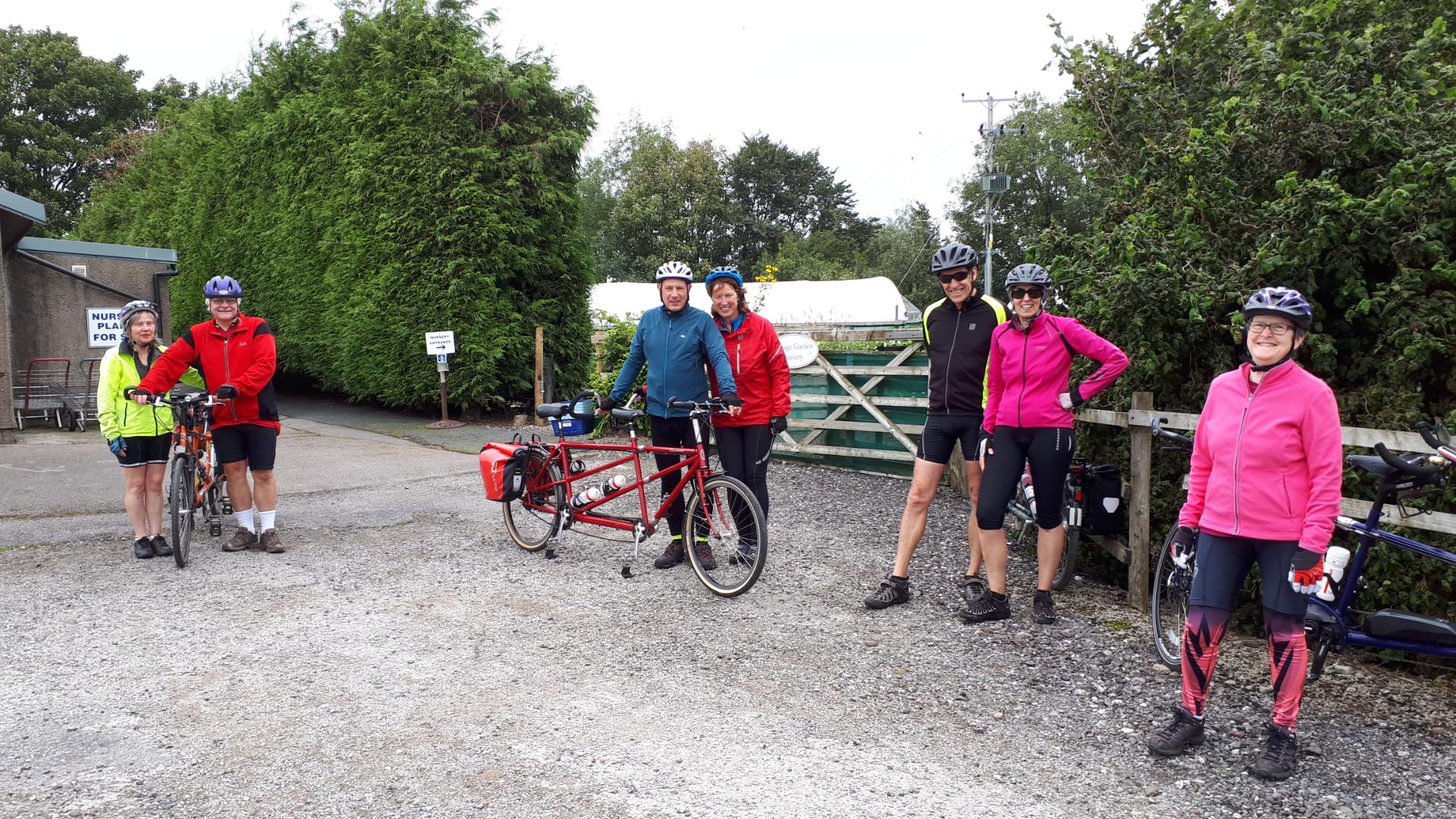 Paul and Jeannette led us through the quiet lanes of South Cumbria and North Lancashire on today's (socially distant!) LA Group monthly ride. Great day out :-)
05/07/2020
Just a reminder to everyone in the LA Group, our July ride will not be going ahead but I don't think it will be long before we can get together for LA Group rides again. Please continue to send me your photos from your lockdown rides. Thanks for all the photos I've received so far. Email stephen.webb001@gmail.com
02/08/2020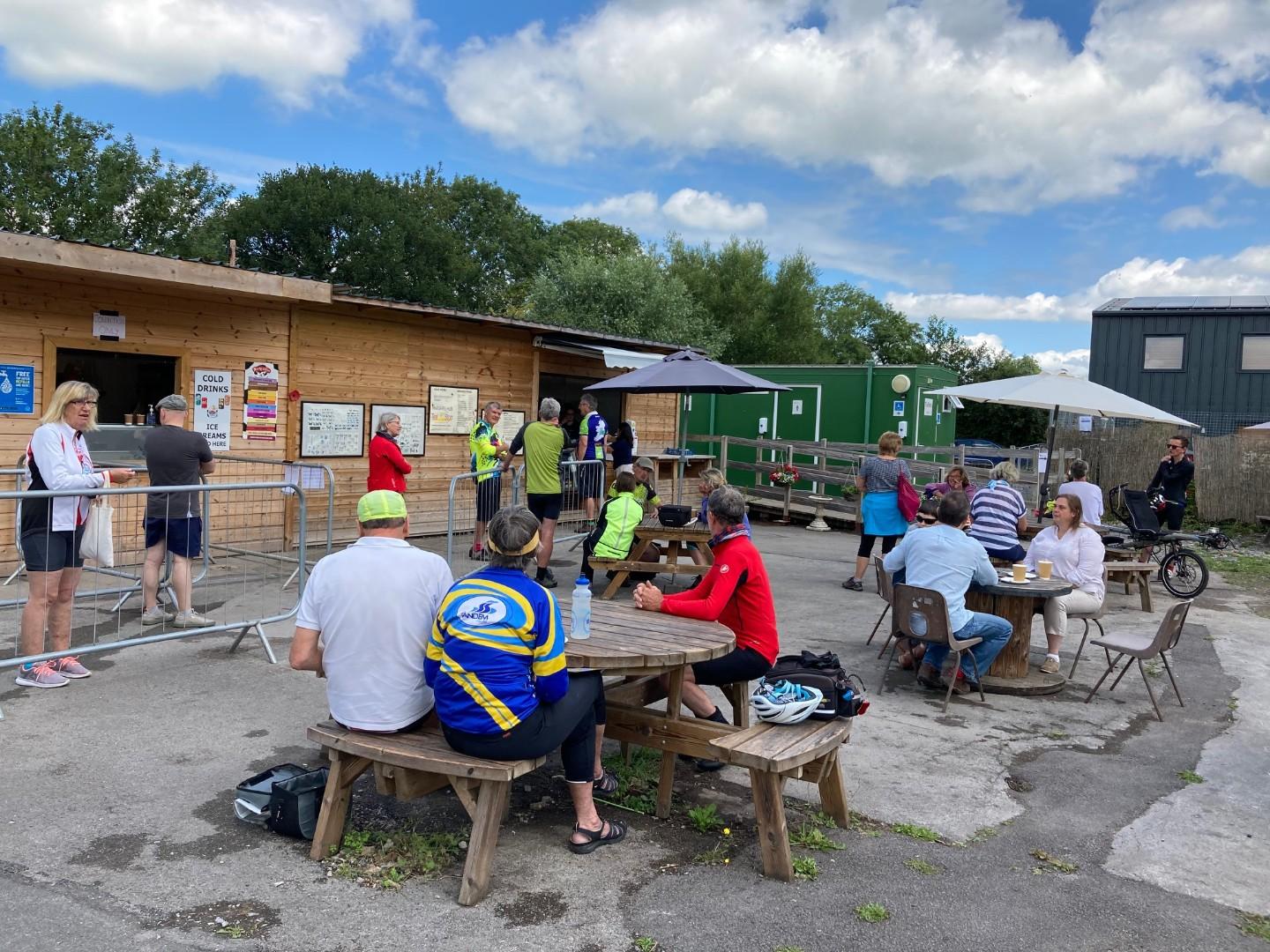 19th July – socially distanced group tandem ride!
This was our first group ride since the beginning of the New Year and with some restrictions lifted we decided to try out something new.
We would need to socially distance, only 6 people in a group, this meant putting cyclists into pods and sending them off at intervals – no catching up and chatting! A maximum of 12 tandem places were offered for our trial ride.
Maps were issued and leaders for each pod were sure they knew the route which took riders through nature reserves and moors on the Somerset levels.
It was a beautiful day and the reserves and moors looked their summer best. Some riders were pleased with the flat ride, there were wildlife photo opportunities and time to walk the bumpy bits and share news.
The pods worked well, thanks to our guides Malcolm, Isaac and Alex.
We used the Avalon Marshes Centre as our base where we could park, use the facilities and enjoy the café which was well set up with a one way system and tables spread out in the open air to accommodate our social distancing.
Though our group has been in contact on Zoom doing quizzes and Bingo it was refreshing to catch up in person finding out how we spent our time in lock down and speculate on the future. We had 9 tandems and three solos and welcomed new members Nic and Jane.
We enjoyed showing off our corner of Somerset – 'the north levels' recently featured on the One Show. There was plenty of information on the area available from the Avalon Marshes representative which may encourage some of us back for a spot of bird watching. In the mean time we were treated to a bee swarm at the information point!
As a trial ride the pods worked well, looking to the future we will need to brush up on our map reading skills as we set the pattern for further meetings.
Rex and Hannah Whitcombe
07/08/2020
The LA Group's post 'lockdown' rides start this weekend (9th August) with two mini group rides of 3 tandems each. We are hoping to expand this next month, depending on the latest guidance. Looking forward to seeing everyone again soon. Stephen