For Sale: Hand Built LV Cycles Touring Tandem Bike - Price
By: Chris Dunkley/br>Email: Christoph.dunkley@googlemail.com/br>Telephone: 07712626811/br>Location: Northampton /br>Listing ends on: Monday 10th June 2019/br>Price: £675/br>
£675 OVNO
This one off tandem has pilot front seat tube 20 (51cm), front top tube 20.5(52cm) and stoke' rear seat tube 23 (top to Centre)(58cm) and rear top tube 23(58cm) continental touring style; length between seat centres 30.5 (78 cm). Used last Summer for 300 mile charity ride and went like a dream! Riders were 6' 1" and 5' 10" and will accommodate different sizes on pilot and stoker. Bought through the tandem club a year ago.
The frame has Reynolds type tubing, Haden lugs, a fillet brazed and lugged frame. Stronglight front chain set, rear FSA chain set and triple drive Shimano Tournay rear mech, 7 speed. Shimano Duel SIS front mech. Rear drag (drum) brake, provided with Campag brake levers and shifters 48 spoke wheels, Mavic rims. front quick release. Lightweight ESGE mudguards. Brand new tyre to front & New Raleigh saddles. Rear luggage rack, and front fork luggage racks (not fitted), 3 x bottle cages.
This tandem has been well built with good kit on board. It weighs only 22kg approx. Very few light scratches to the beautiful paintwork. Hand crafted in Coventry by LA cycles which has stopped producing tandems, but is still making bikes as Lee Cooper.
Please email to arrange viewings near Daventry.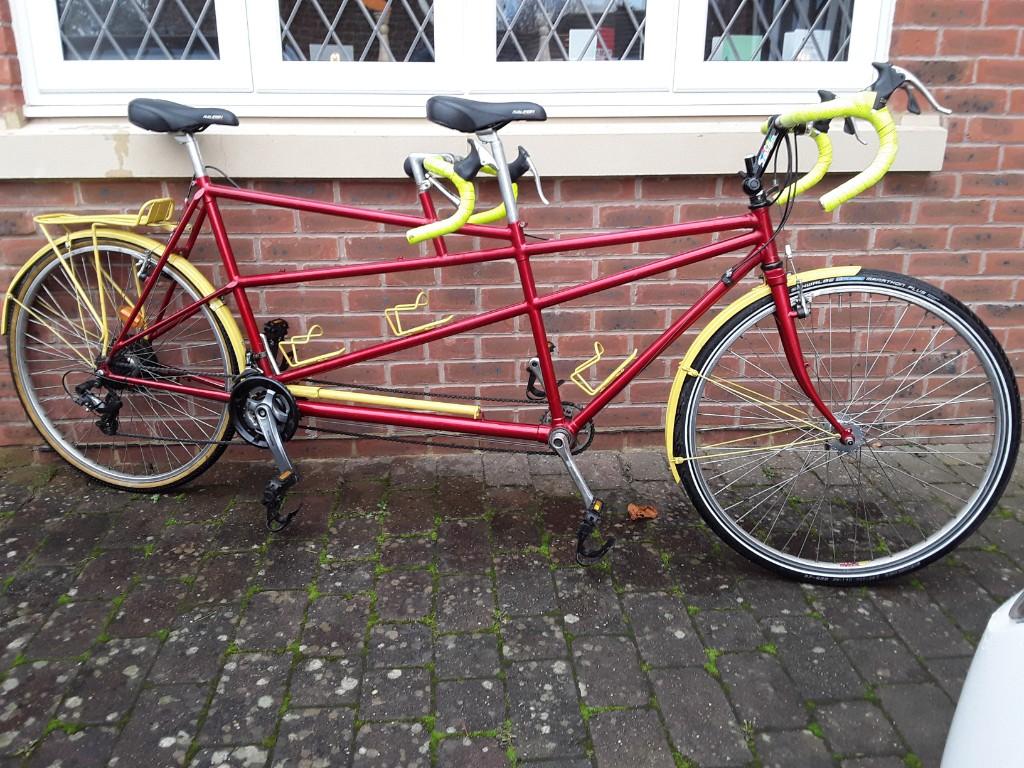 Show all items for sale